New! Streaming Video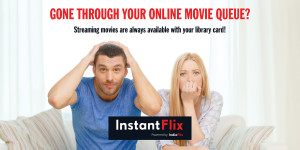 InstantFlix is now available for Tracy Library patrons!
What is InstantFlix?
A streaming movie service that provides access to award-winning shorts, feature films, and documentaries. See films from major festivals all over the world!
What do I need to be able to use this service?
1. An internet connected device (computer, tablet, smartphone, etc.)
2. A Tracy Memorial Library card
How do I get started?
1. Go to the Tracy Library InstantFlix portal page.
2. Create an InstantFlix account. When asked for your library card number, you'll need to enter all 14 digits.  There's also a channel on Roku and an app on Xbox 360.
3. Browse, choose a film, and enjoy!
Funding for your InstantFlix access comes from The Friends of Tracy Memorial Library.