After School Student Cafe
3:00 – 4:00
2nd Thursday of the Month
Movies and Snacks
Grades 4 and up.


Dunkin' Books
Calling all students in grades 6 -12!
For every book you check out of the library get a chance to win a $10 gift card to Dunkin' Donuts.
Drawings held the last day of each month!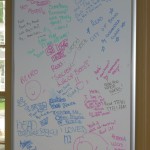 Are you interested in a teen book club, teen movie screenings, or other events at the library? Do you have suggestions for events or books?
Call the Youth Department at 526-4656 or email tmlkids@tracylibrary.org.